Vinitaly 2019 has just brought important news for the Zýmē winery. For the very first time it's been presented a book written and published on occasion of the first 20 years of Harlequin, the most iconic and decisive wine for Celestino's own project.
It's a uncommon biography about the protagonist's personal and enological story and also his  own strong values,  old and contemporary at the same time, which are the basis of a long career still on progress, rich of success and new goals always. The dialogue with the young author Filippo Tommasoli (writer and Visual Factory's project founder) provides a good rhythm and helps the story to get to the younger people through facts and considerations derived by the generational matching between Celestino Gaspari and the young author.
The preface was written by Angelo Peretti, important wine and food journalist who also created Harlequin's name and label. By introducing the book he just revisits the prior moments before 1999 vintage's release such as the choice of the name Harlequin (an engaging reasoning through Carlo Goldoni's Art of Comedy and Jazz music) and the label design inspired by "Arlecchino"'s world.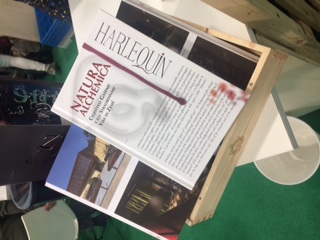 Celestino Gaspari together with Angelo Peretti and Filippo Tommasoli, whose startup right focuses on the storytelling of Made in Italy's successful companies, have officially presented the book "Natural Alchemy" (Edizioni Tommasoli), on Sunday April 7th during the Vinitaly launching party celebrating the first 20 years of Harlequin and Zýmē.
The book, including both the Italian and English version besides original documents and pictures, is available at our wine shop in San Pietro in Cariano, Via Ca' del Pipa 1 (open Mon. – Sat. from 9.00 am to 6.00 pm).